Zodiac Adventure
Looking for something a little more private and adventurous? This thrilling 2 hour zodiac expedition is fast, fun, educational and as close to nature as it gets.
Watch for icebergs, humpbacks and aerobatic dolphins. Explore towing cliffs, fascinating sea caves and scenic seabird islands. Puffins, eider ducks, black-guillemots and kittewakes are just some of the seabirds that breed on these islands. During each tour, our local naturalist will provide live interpretation on our natural and cultural heritage.
This is a perfect tour for small groups of 2-12 that want a private experience of their own. Its also great for photographers, film crews or individuals who want to focus on just whales, icebergs or what ever your needs might be.
Operating Season: May 23rd – September 15th
The start up date is subject to ice conditions. It might be later in May before ice conditions are favourable. Feel free to call us for an update.
* Iceberg Season – Peak season: Late May – early July. Good sightings usually continuing into late July.
* Whale Season (humpbacks, minke & fin) – Sightings begin early June. Peak season: Late June – Late August.
* Dolphin Season – (Atlantic white-beaked dolphins) – Sightings begin Mid July. Peak season: Late July – late September.
* Bird Season – The bald eagles, arctic terns, guillemots and kittiwakes are best observed from early June to mid August.
Reservations & Recommendations:
It is recommended that you make a phone in reservation at least 48 hours of your intended departure date. This will ensure your seat and help us serve you better. A credit card number is required to hold your seat. Payment is not made however until you arrive 30 min. prior to departure at our ticket office. Walk-ons are welcome as we can accommodate most guests on short notice. We depart RAIN or SHINE.
If you plan to spend 2 or more days in the St. Anthony area, it is recommended to schedule the tour early in your stay. This will give you the flexibility to reschedule for later that day or the following day if weather proves unfavorable . To book your reservation, call toll free: 1877-632-3747 or 1-709-454-3092. Our OFFICE HOURS are 7:30am to 9:00pm, 7 days a week.
Cancellation Policy:
For advanced bookings, you have 48 hours or more before departure to cancel without charge. Cancellations made less than 48 of departure, a cancellation fee may apply. This applies to all booking including reservations made less than 48 hours of departure. Cancellations made within 12 – 48 hours before departure, we reserve the right to charge a 50% cancellation fee. Any cancellations made less than 12 hours before departure, we reserve the right to charge a 100% fee. For no shows, we reserve the right to charge a 100% fee. For your customer service and convenience, we do not apply any fees for rescheduling. We are here to serve you!
Schedule
As this experience caters mostly to private charters, the schedule is flexible to suit the schedule of our guests. Prices start at $600.00/excursion. Please call 1877-632-3747 for more details and arranging a departure time.
• Depending on conditions, we provide Life Jackets or Mustang Survival Suits to keep you cozy and safe.
• Bring camera and warm-all weather clothing: hats, gloves, jackets, long pants and closed-toe shoes.
• Vessel and Crew meet Transport Canada Regulations.
• Book early in your stay so that you can reschedule if weather proves unfavourable.
• Not suitable for passengers with a history of serious medical conditions, including but not limited to, back or neck injuries, recent surgery, and/or current or suspected pregnancy. Passengers must also be 6 years of age and over.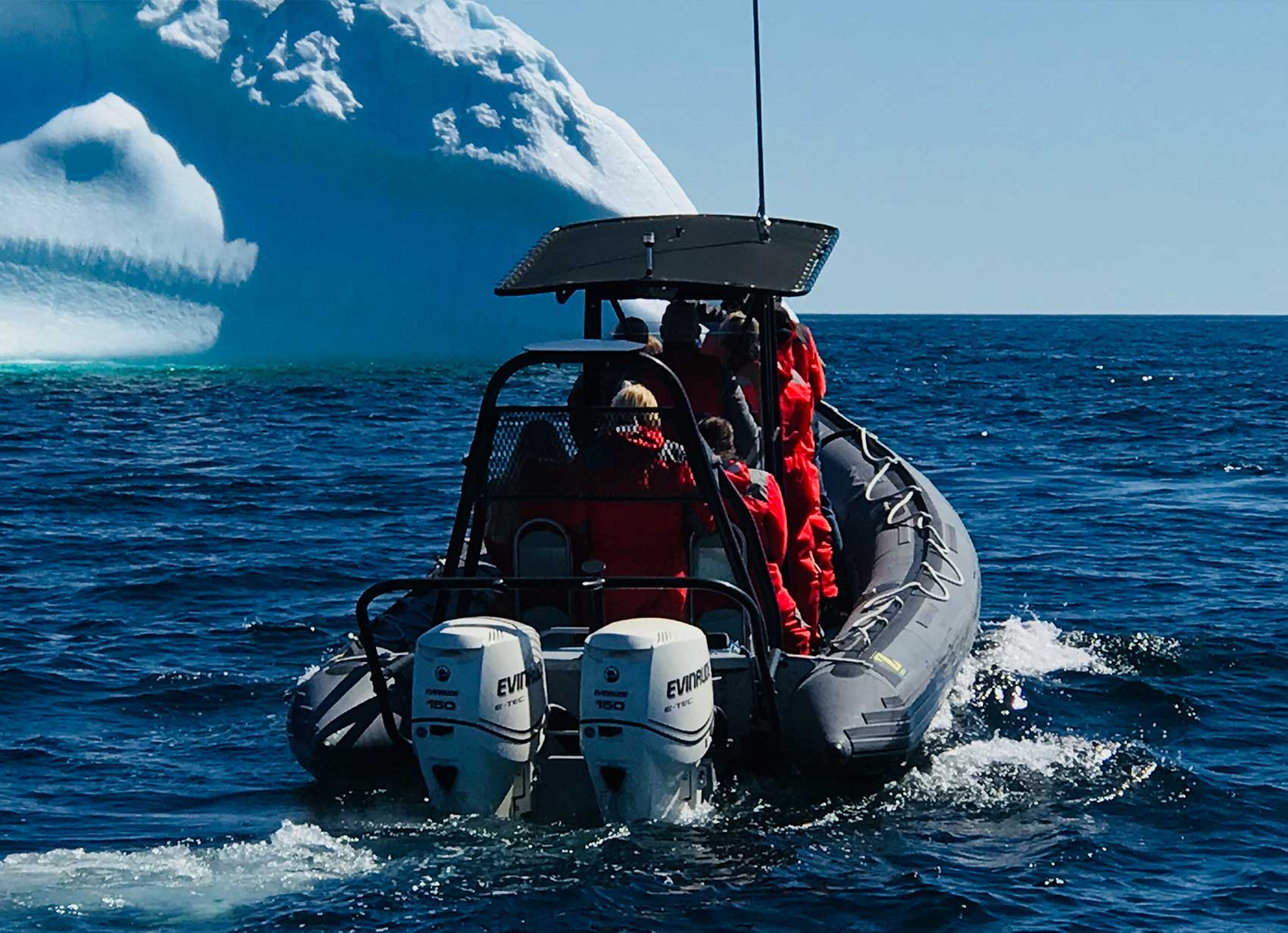 How To Get Here:
If you're driving to Newfoundland, Marine Atlantic operates a ferry service between North Sydney, Nova Scotia and Port aux Basque, Newfoundland.
From Deer Lake, take Route 430 to St. Anthony. Flying to Newfoundland is another option. After flying (Air Canada/Tango) to Deer Lake, rent a car and take a spectacular 4 hour coastal drive to St. Anthony.
If you fly (Air Canada,  WestJet or Continental Airlines) to St. John's, you can rent a car or take a direct flight to St. Anthony with Provincial Airlines. To make your travel plans, below are some important directions and contact numbers.
How To Find Us:
As you enter St. Anthony, continue straight through town on West street for 2km and look for our sign. We are behind the Grenfell Interpretation Centre.
GPS Coordinates: 51.3635, – 55.5842
Airlines/Contacts:
Canadian Airlines
Air Canada/Tango: 1-888-247-2262
WestJet: 1-888-937-8538
Provincial Airlines: 1-800-563-2800 (Inside Province of NL) | 1-709-576-1666 (Outside NL)
American Airlines:
Continental Airlines: 1-800-523-3273 (New York/Newark to St. John's)
Marine Atlantic: 1-800-341-7981
Newfoundland & Labrador Tourism: 1-800-563-6353